DoDAF
JeTSI's Model Based Systems Engineering & DoDAF Expertise
JeTSI has been on the forefront of applying Model Based Systems Engineering  (MBSE) services and products utilizing the Department of Defense Architectural Framework (DoDAF) on large aerospace projects. These efforts represent the application of MBSE to Systems of Systems, and included integration with other technical and program management tools and processes (e.g., requirements management systems).
DoDAF, originally created for military systems, has applicability across large systems with complex integration and interoperability challenges. It allows an organization to understand all areas of a project, how they interact, and to make informed decisions more effectively. The new 2.0 Viewpoints manage the development, deployment, and operational complexities of your program by tying them directly to the architecture. Utilizing the DoDAF 2.0 makes it easier and quicker to maintain a complex system or program model, and reduces your engineering hours.
As the Architectural lead, JeTSI has provided architectural viewpoints in both DoDAF Versions 1.5 for NASA Space Network Ground System Sustainment (SGSS) Project and DoDAF Version 2.0 for NASA's Joint Polar Satellite Systems (JPSS) Ground Project. DoDAF 2.0 is an integrated acquisition and systems engineering tool. All viewpoints synchronize while assembling an integrated data-base managed model. It contains well over 500 views at multiple levels, and includes process and technical baseline views to guide the JPSS era.
JeTSI can help your project too. We can assess your current system and architectural tools, and help develop a plan for transitioning to DoDAF 2.0 integrating requirements management, configuration management, and even cost estimation/management tools. JeTSI will augment your current systems engineer and architectural team with modern tools to efficiently perform complex architectural assessments against some of the largest Systems of Systems challenges.
Contact us today to discuss your project needs.
Some graphical DoDAF views: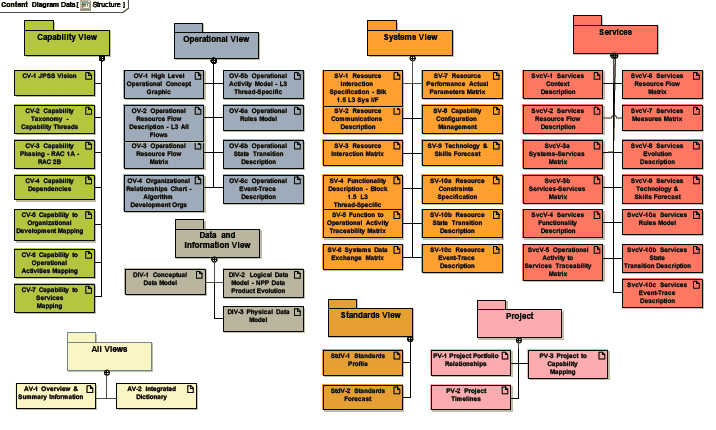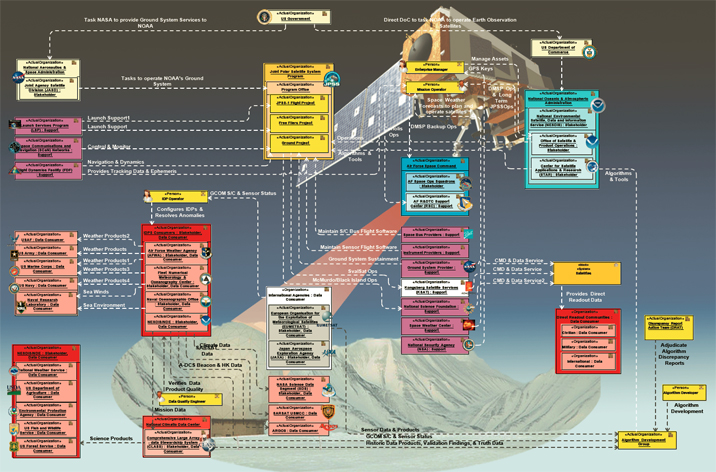 Return to Systems.